Bronx Education All-Star Day: A Celebration of Young Change Makers
Jun 14, 2023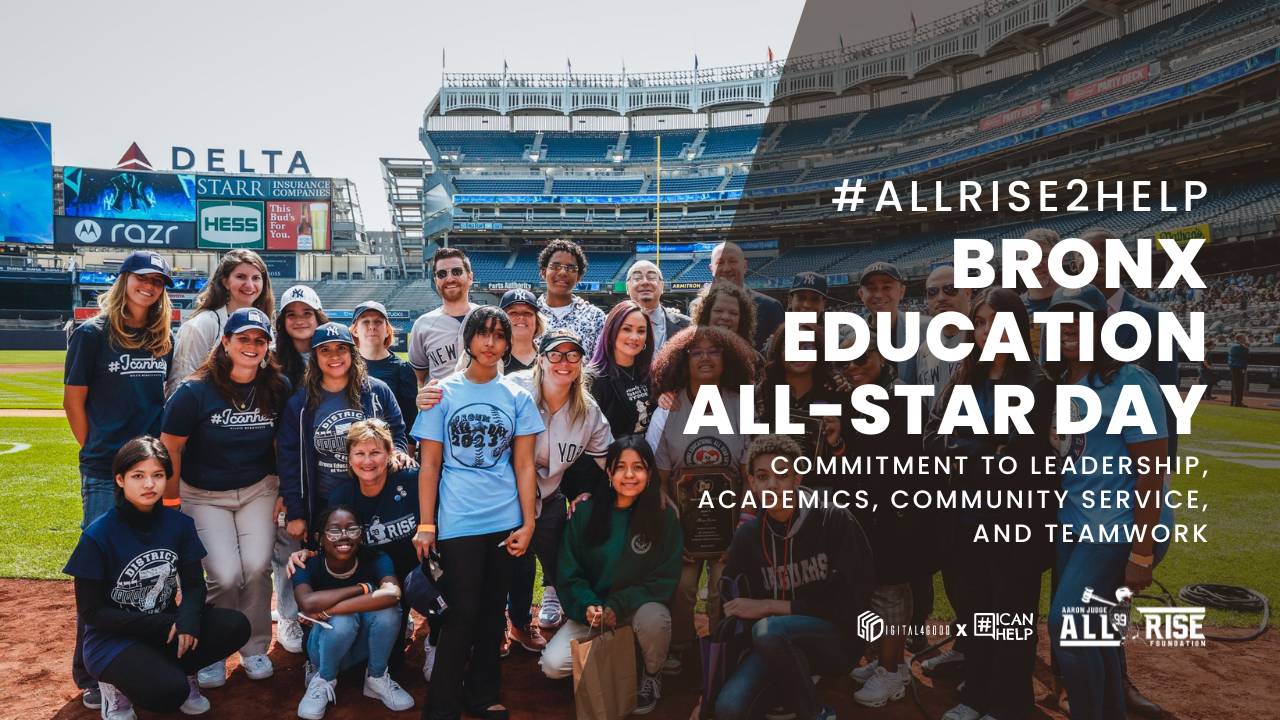 On May 10, 2023, #ICANHELP participated in the Bronx Education All-Star Day, which celebrated the power of positivity and youth leadership in our communities. This unforgettable event celebrated students from grades five through eight in Bronx schools, honoring their commitment to leadership, academics, community service, and teamwork. But more than a simple acknowledgment, it served as a vibrant showcase of our young people's inspiring efforts to build a brighter world.
A particular highlight was the beautiful speech by seventh-grade student Noni, who spoke about the vital role of good character and positivity in bringing about change online. She highlighted the beauty of showing kindness and the transformative potential of social media as a platform for positive action. As Noni eloquently said, "Character is your reflection when no one's looking, and having good character means that reflection is beautiful."
Our strategic partnership with Aaron Judge's All Rise Foundation further elevated this event, which shares a mission to empower student change makers and promote digital citizenship and safety.
Our partnership continues beyond the student all-star day. The #ALLRISE2Help Power Bands initiative is more than just a symbol; they're tokens of empowerment, reminding students that their actions matter. This movement resonates with the principle that everyone can be a change maker – not just celebrities or influencers. It's about recognizing the potential in our youth to steer positive change, one kind act at a time.
#ALLRISE2Help Power Bands are awarded for many reasons, from leaving kind comments and creating enlightening podcasts to sharing uplifting posts. This growing initiative has already touched over 80 lives on its platform, inspiring a wave of positive digital citizenship. And let's be honest, what kid wouldn't want merch from superstar Aaron Judge?
Overall, the Bronx Education All-Star Day was not just an event but a pivotal moment demonstrating the potential for change when students use digital for good. These young change makers are not just the leaders of tomorrow but the positivity we need today.
We invite you to join this incredible journey. If you know a student who consistently encourages others, nominate them to win a Power Band and become part of the #ALLRISE2Help movement. After all, every act of positivity, no matter how small, helps make our world a better place.
By: Lara Saif, Seasonal PR Intern | Digital4Good
Stay connected with news and updates!
Join our mailing list to receive the latest news and updates from our team.
Don't worry, your information will not be shared.
We hate SPAM. We will never sell your information, for any reason.