September Students4Good Webinar Recap
Oct 11, 2023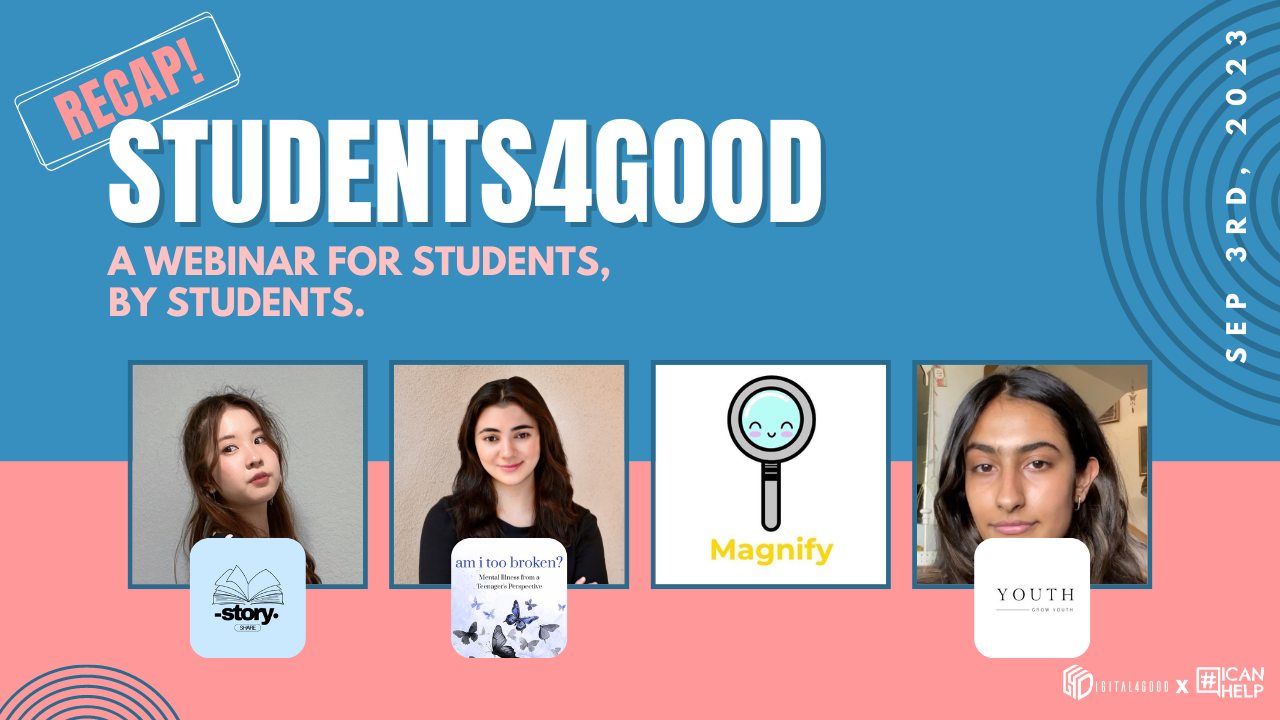 By: Ashima Nair, Annual Public Relations Specialist | Digital4Good
In our fast-paced world, there are folks who stand out as beacons of hope, drivers of progress, and advocates for positive change. These incredible individuals are out there to make society better for everyone. Harnoor Dhaliwal, Simone Sharma, Joy Kim, and Aryana Altaha have accomplished incredible things with their dedication, strength, and unwavering determination to break the mold and create real change in the world.
Magnify You
Harnoor Dhaliwal, a current high school student from Vancouver, is the founder of Magnify You. The organization's mission is to make mental health resources more accessible and educate everyone about the importance of wellness. Magnify You was created in response to the fact that, although schools aim to promote student well-being and mental health positivity, some students may not feel comfortable or lack the confidence to openly discuss their mental health.
With over 200 branches established in 6 provinces, 36 states, and 42 countries, Magnify You has reached over 54,000 students globally. Their primary goal is to eliminate students' fear of discussing mental health and make conversations about it easier by offering easily accessible resources.
Chapter leaders typically organize peer-to-peer support groups at their schools, utilizing formats like roundtable discussions, team bonding, and journaling sessions. Magnify You aims to provide everyone with the opportunity to engage in a warm, loving, and inclusive community.
Looking ahead, Magnify You plans to expand its reach to more states and countries, with a focus on helping more people. Additionally, they hope to establish partnerships with authors to reach young audiences, as they believe it's essential to educate them about mental health from a young age.
Youth Grow Youth
Simone Sharma, an incoming Freshman at the University of Bath in the UK, is the Founder of Youth Grow Youth (YGY), a student-led, Harvard-accelerated startup dedicated to making global resources accessible to youth. With an impact on over 60,000+ students worldwide, YGY is reshaping the future of education and opportunities.
YGY's journey began in 2021 when Simone was personally determined to improve her college application. However, as she delved into the process, she realized that the problem was widespread and needed more awareness. With the goal of creating a supportive and inclusive community, Simone started sharing opportunities on Instagram. The positive response from her peers encouraged her to build something more substantial – a platform that offers structured access to these opportunities for all youth.
YGY has become a global organization with over 3 chapters in 4 different countries. The organization has impacted more than 60,000 students worldwide and has secured several accelerators, including Harvard University. During the COVID-19 pandemic, YGY raised 30,000 COVID kits for orphan care homes and delivered over 100 care packages to youth in their community who were struggling with mental health.
Additionally, YGY is affiliated with the United Nations Youth Council (UNYC) and plays a crucial role in empowering the youth community to achieve goals such as gender equality and mass literacy. The organization achieves this through various initiatives, including workshops, fundraisers, online events, and more.
Students Together On Rewriting Youth (STORY)
Joy Kim, a 17-year-old from Dallas, Texas, currently attends Plano Senior High School. She holds the position of Founding Executive Director at Students Together On Rewriting Youth (STORY), a mental health nonprofit organization dedicated to reshaping the landscape of youth mental health, one story at a time.
Joy's journey commenced in middle school with the establishment of blogs, offering her an outlet to express her feelings and explore various topics. Her inspiration to create STORY stemmed from a cyber bullying experience during her 10th grade year.
STORY was conceived from the recognition that many students grapple with feeling misunderstood, overlooked, and disregarded in their mental health journeys. Despite mental struggles being a common human experience, they often bear the weight of stigma in our society. Now, more than ever, it is imperative to share authentic, unfiltered stories from youth contending with the burgeoning mental health crisis. STORY serves as a platform to amplify these narratives and foster awareness and advocacy in the realm of adolescent mental health.
To date, they have reached over 50 individuals and organizations within the Plano community, raised $200 in donations, organized a food drive in honor of Anti-Poverty Week, launched a writing workshop tailored for grades 4-8 to raise funds for mental health causes and cultivate positive writing habits. Additionally, they have taken the initiative to organize events and mental health awareness campaigns both within the school and the broader community.
Ask Aryana
Aryana Altaha, a 16-year-old based in Scottsdale, Arizona, is a passionate mental health advocate. She created an Instagram account, ask.aryana, inspired by her personal struggles with mental health. Her goal is to reassure others that they are not alone in their challenges and to offer scientifically proven techniques for improving mental well-being. Aryana is also a self-published author of a mental health poetry book titled "am I too broken?"
In 2021, Aryana began posting on her Instagram account because she recognized the need for a safe space where people, like herself, could openly discuss their mental health struggles and find hope for recovery. She acknowledges a prevalent issue in society where mental health is often misunderstood. Many believe that voicing your struggles signifies weakness and fragility, while staying silent is seen as a sign of strength and resilience.
Aryana recommends several strategies for addressing mental health issues, that can help one to break the stigma that surrounds mental health while also fostering a supportive community:
Recognize that seeking professional help is a sign of strength.

Understand that vulnerability is a source of power.

Find healthy ways to release your emotions.

Encourage others to open up and assure them that it doesn't make them weak.
To summarize it, the stories of these remarkable individuals - Harnoor, Simone, Joy, and Aryana - reveal the incredible impact that passionate, dedicated, and resilient young changemakers can have on our world. They're not just symbols of hope; they are living proof that young people taking action can create powerful and positive change.
Here are our top three takeaways from this event:
Strength in unity - The students from the webinar stress the importance of building tight-knit, understanding communities where everyone can openly discuss their personal experiences and challenges

Diverse Approaches - Each of these students have taken a unique and innovative path to assist others and offer valuable resources to support the journey for many

Youth Empowerment - It's crystal clear that young individuals have the power to lead the way in creating positive transformations, not just within their local communities, but on a much broader scale.
---
September Students4Good Recap
By: Ashima Nair, Annual Public Relations Specialist | Digital4Good
---
Join our growing #Digital4Good community on social - follow us on IG, TikTok, and Twitter to stay inspired and informed when it comes to online positivity and engagement!
Stay connected with news and updates!
Join our mailing list to receive the latest news and updates from our team.
Don't worry, your information will not be shared.
We hate SPAM. We will never sell your information, for any reason.